Image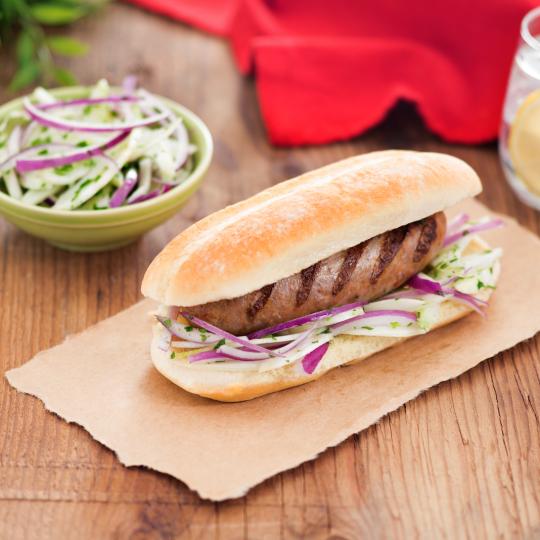 Sweet Italian Sausage with Fennel and Red Onion Slaw
Sweet Italian Sausage with Fennel and Red Onion Slaw mixes mild and sharp elements for a delicious fusion of flavours. Assemble the easy-to-prepare sausages on Villaggio® Toscana Extra Soft Sausage Buns for a satisfying lunch or dinner that grills up in no time. Serves six.
Ingredients
6 Villaggio® Toscana Extra Soft Sausage Buns
6 sweet Italian sausages
1 head fennel, core removed and thinly sliced
1/2 small red onion, thinly sliced
1/4 cup (60 mL) finely chopped fresh parsley
3 tbsp (45 mL) olive oil
2 tbsp (30 mL) white wine vinegar
1/2 tsp (2 mL) salt
Directions
Toss fennel with red onion, parsley, olive oil, vinegar and salt.
Chill for 10 to 15 minutes before serving.
Meanwhile, grill sausages according to package directions.
Assemble sausages in buns with fennel slaw.
If serving for less people, divide accordingly.
Tips: Substitute spicy Italian sausage for sweet, if desired.