Image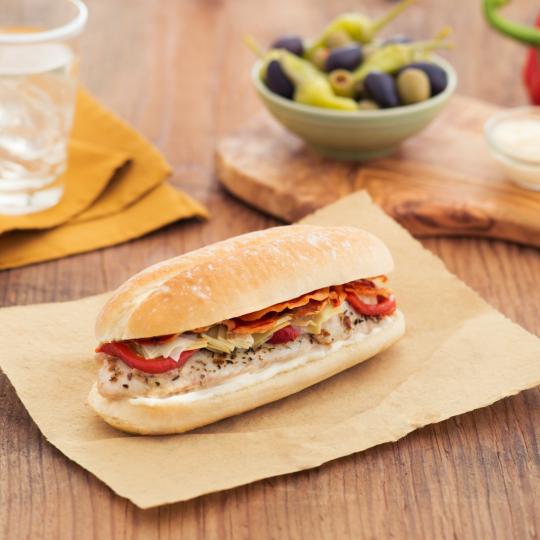 Grilled Fish Sandwich with Pancetta, Red Peppers and Artichokes
This light and zesty Grilled Fish Sandwich with Pancetta, Red Peppers and Artichokes is a Mediterranean-inspired dish that's filled with flavour. Served on a Villaggio® Toscana Extra Soft Sausage Bun, it brings savoury taste to summer grilling. Serves six.
Ingredients
6 Villaggio® Toscana Extra Soft Sausage Buns
2 (170 g) jars marinated artichokes
6 small tilapia fillets (or 3 large fillets)
12 thin slices pancetta
6 tbsp (90 mL) mayonnaise (optional)
3/4 cup (175 mL) jarred roasted red peppers, drained and sliced
Directions
Preheat grill to medium-high heat; grease grate well.
Meanwhile, drain artichokes, reserving marinade for fish.
Chop artichokes and set aside.
Toss fish with artichoke marinade and let stand for 10 minutes. Shake off excess and grill fish for 3 to 4 minutes per side or until cooked through.
Cut fillets in half lengthwise if using large fillets.
Grill pancetta for 1 to 2 minutes per side or until grill-marked and lightly crisp.
Assemble grilled fish in buns with mayonnaise, red peppers, artichokes and pancetta.
If serving for less people, divide accordingly.
Tips: Tilapia can also be brushed with 2 tbsp (30 mL) lemon juice and 2 tbsp olive oil (30 mL) and seasoned with 1/2 (2 mL) tsp salt.