Image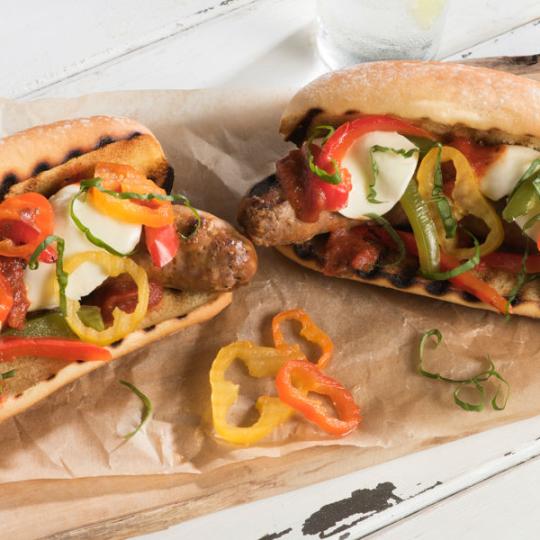 Savoury Grilled Sausage and Pepper Hoagie
A mix of sweet and hot peppers provides the perfect complement to this Savoury Grilled Sausage and Pepper Hoagie. Villaggio® Toscana Extra Soft Sausage Buns make a delicious base for this grilled sandwich. Serve it at summer BBQs or as a popular snack on game day. Serves four.
Ingredients
4 Villaggio® Toscana Extra Soft Sausage Buns
1 each red and green pepper, halved and seeded
4 Italian sausages, mild or hot, scored
1/2 cup (125 mL) tomato sauce, heated
1 ball fresh mozzarella cheese, sliced
1/4 cup (60 mL) hot pepper rings
2 tbsp (30 mL) thinly sliced fresh basil
Directions
Preheat grill to medium-high; grease grates well. Grill peppers for 3 to 5 minutes or until charred. Remove from grill and slice lengthwise.
Grill sausages for 14 to 16 minutes or until cooked through. Set aside.
Grill buns, cut side down, for about 1 minute or just until toasted.
Place sausages and peppers in buns; top with tomato sauce. layer two slices mozzarella cheese over sauce in each bun.
Top with hot pepper rings and sliced basil.
Tips: Use a variety of hot and sweet peppers if desired. Look for banana peppers, red hot peppers, serranos and jalapeños if you love heat.

Keep a water-filled spray bottle near the barbecue to put out any flare-ups from the dripping sausages.