Image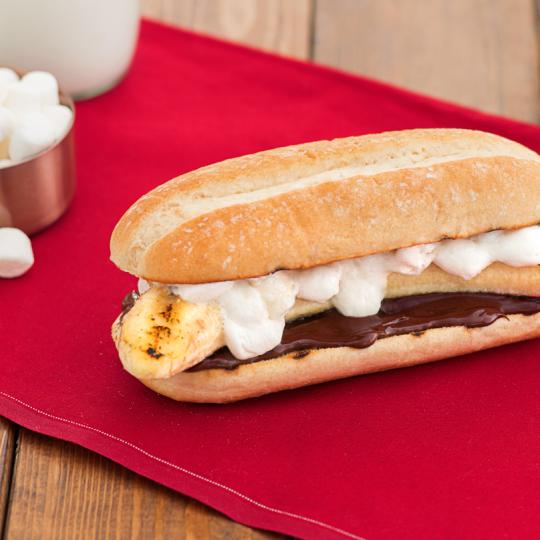 Grilled Banana and Hazelnut Spread Sandwich
This easy-to-make Grilled Banana and Hazelnut Spread Sandwich is a sweet snack you won't want to miss. Prepared on a Villaggio® Toscana Extra Soft Sausage Bun and topped with marshmallows, the grilled sandwich is a decadent dessert reminiscent of campfires and classic s'mores. Serves six.
Ingredients
6 Villaggio® Toscana Extra Soft Sausage Buns
6 firm ripe bananas, peeled
6 tbsp (90 mL) hazelnut spread
1 1/2 cup (375 mL) mini marshmallows
Directions
Preheat grill to medium high; grease grate well.
Grill banana for 2 to 3 minutes, turning occasionally, or until grill-marked.
Meanwhile, grill buns for 1 to 2 minutes or until toasted.
Spread each bun with hazelnut spread.
Top with grilled banana and mini marshmallows.
Place sandwiches back on grill, cover and cook for 1 to 2 minutes or until marshmallows start to melt.
If serving for less people, divide accordingly.
Tips: For a more decadent treat, top with whipped cream and drizzle with caramel sauce.