Image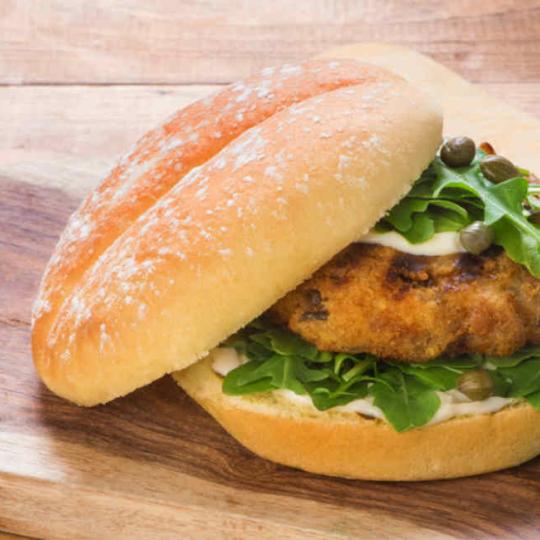 Zesty Grilled Tuna Burgers
Mediterranean-inspired ingredients bring fresh flavour to these Zesty Grilled Tuna Burgers. Bursting with tangy taste, the tuna patties are prepared with capers and fresh lemon and served on delicious Villaggio® Toscana Extra Soft Hamburger Buns. Serves four.
Ingredients
4 Villaggio® Toscana Extra Soft Hamburger Buns, toasted
1/4 cup (60 mL) drained capers
2 cans (each 170 g) water-packed tuna, well drainedand flaked
1/3 cup (75 mL) bread crumbs
2 eggs
3 tbsp (45 mL) olive oil
2 tbsp (30 mL) lemon juice
2 cloves garlic, minced
1/4 tsp (1 mL) each salt and freshly ground pepper
1/3 cup (75 mL) mayonnaise
1 cup (250 mL) arugula
Directions
Chop 3 tbsp (45 mL) of capers; set remaining capers aside.
Mix together chopped capers, tuna, breadcrumbs, eggs, 1 tbsp (15 mL) olive oil,half of the lemon juice, garlic, salt and pepper.
Divide into 4 portions; shape into 3/4-inch (2 cm) thick patties.
Brush patties with remaining olive oil to coat.
Refrigerate for at least 1 hour on parchment paper-lined tray. Stir mayonnaise with remaining lemon juice; set aside.
Preheat grill to medium-high heat; grease grate well.
Reduce heat to medium; grill patties for 3 or 4 minutes per side or until grill-marked and heated through.
Assemble burgers in buns with lemon mayonnaise, arugula and reserved capers.
Tip:Top burgers with tomato and cucumber slices if desired.

Add 2 tbsp (30 mL) of chopped fresh parsley or mint to the burger patties if desired.