Image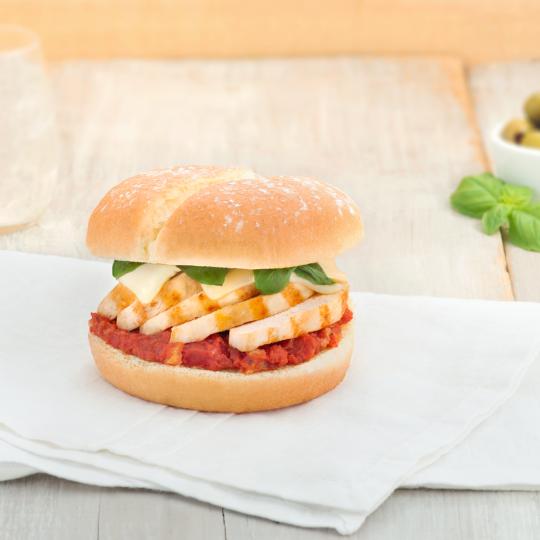 Quick-and-Easy Grilled Chicken and Fontina Sandwich
This Quick-and-Easy Grilled Chicken and Fontina Sandwich is a delicious dinner option for the whole family. Flavourful ingredients are layered on a Villaggio® Toscana Extra Soft Hamburger Buns and lightly grilled for a mild-tasting and melty grilled sandwich. Serves eight.
Ingredients
8 Villaggio® Toscana Extra Soft Hamburger Buns
8 boneless, skinless chicken breasts, thinly sliced
2 tbsp (30 mL) olive oil
1/4 tsp (1 mL) each salt and pepper
2 cups (500 mL) tomato sauce, heated
8 slices Fontina cheese
1/3 cup (75 mL) fresh basil leaves, torn
Directions
Preheat grill to medium-high heat; grease grate well.
Toss chicken with olive oil, salt and pepper.
Grill for 4 to 5 minutes per side or until grill-marked and cooked through.
Assemble chicken in buns with tomato sauce, Fontina cheese and fresh basil.
Wrap sandwiches in tinfoil and grill for 3 to 5 minutes or until cheese is melted and bun is slightly crispy.
If serving for less people, divide accordingly.
Tips: Substitute chicken with eggplant slices for a vegetarian option.