Image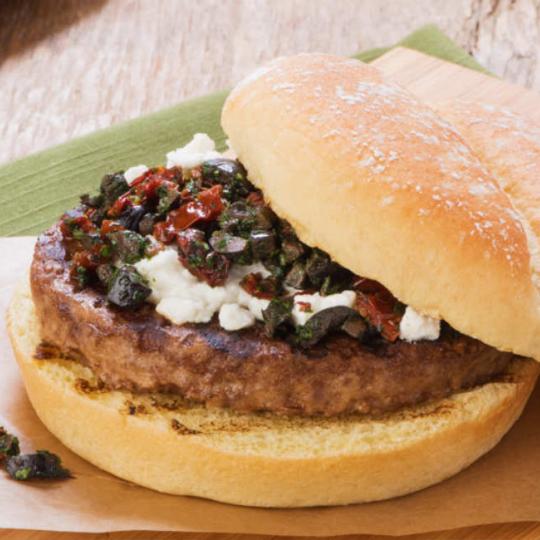 Zesty Goat Cheese and Tapenade Burger
Italian-inspired fixings make this Zesty Goat Cheese and Tapenade Burger an instant hit with the BBQ crowd. Quick and easy to prepare and served on a Villaggio® Toscana Extra Soft Hamburger Buns, the flavourful burger brings great taste to summer grilling. Serves four.
Ingredients
4 Villaggio® Toscana Extra Soft Hamburger Buns
1/3 cup (75 mL) drained chopped sun-dried tomatoes (packed in oil)
1/4 cup (60 mL) pitted chopped black olives
2 tbsp (30 mL) chopped fresh parsley
3 tbsp (45 mL) extra-virgin olive oil
4 beef patties
1/2 cup (125 mL) crumbled goat cheese
Directions
Preheat grill; grease grate well.
Stir together sun-dried tomatoes, olives and parsley; stir in olive oil.
Grill beef patties according to package directions, topping with goat cheese during the last 2 minutes of cooking to warm through.
Meanwhile, grill buns for 30 to 60 seconds per side or until toasted.
Assemble burgers in buns. Dress each burger with sun-dried tomato tapenade.
Tip: Purée tapenade in food processor for a smoother finish.

Top burger with arugula or spinach if desired.