Image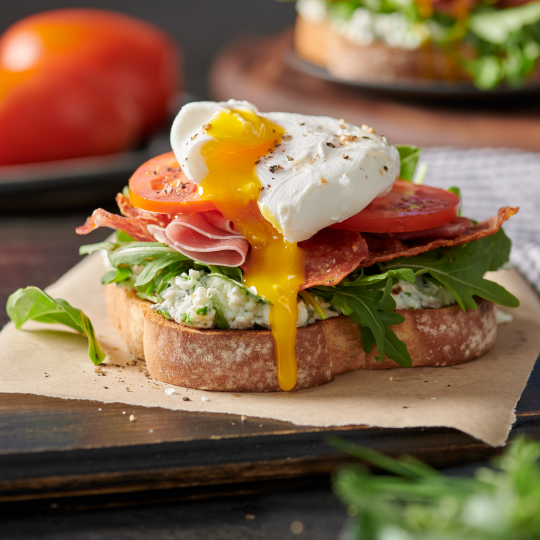 Italian Breakfast Sandwich
Ingredients
4 Slices of Villaggio® Artesano™ White Bread
Italian Herbed Cream Cheese (recipe below)
4 Poached Eggs
16 Slices of Soppressata
1/4 cup Olive Oil, for frying
12 slices Prosciutto
2 Cups (500g) Baby Arugula
3 Roma Tomatoes, thinly sliced
Salt and Pepper, to taste


Italian Herbed Cheese

2 Tablespoons (15g) Olive Oil
1 Cup (250g) Ricotta Cheese, room temperature
1/4 Cup (33g) Fresh Basil, finely chopped
1/4 Cup (33g) Fresh Chives, finely chopped
1/4 Cup (33g) Fresh Oregano, finely chopped
2 Tablespoons (28g) Flat Leaf Parsley, finely chopped
Salt and Pepper to taste
Directions
In a Mixing Bowl, combine all the ingredients for the Italian Herbed Cheese with a fork, and whip until herbs are incorporated. Set aside.
Poach Eggs. Set aside.
Heat a frying pan or skillet over medium-high heat and add in olive oil, then cook the soppressata until lightly crisped for approximately 4 to 5 minutes.
Lightly toast each slice of bread.
Evenly spread each slice with Italian herbed cheese, layered with baby arugula, crispy soppressata, prosciutto, Roma tomato slices, and top each with a poached egg.