Image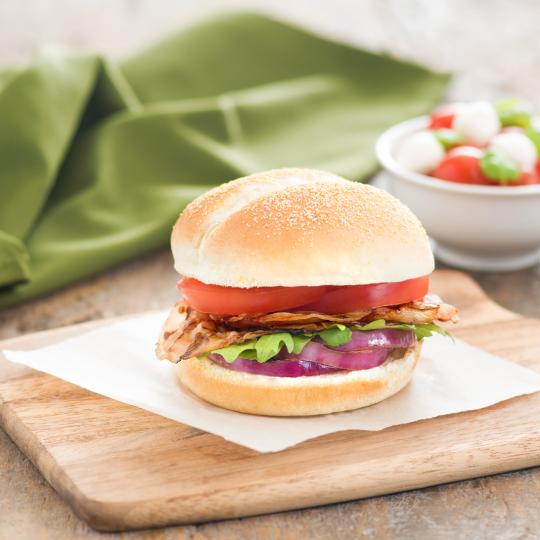 Grilled Pancetta on a Bun
Get grilling with this great-tasting Grilled Pancetta on a Bun. Served on a delicious Villaggio® Italian Style Crustini Bun, this savoury sandwich is a satisfying option for a quick-and-easy lunch or dinner. Serves eight.
Ingredients
8 Villaggio® Crustini Hamburger Buns
32 thin slices pancetta
1 large red onion, thickly sliced in rings
2 tbsp (30 mL) balsamic vinegar
2 cups (500 mL) arugula
16 tomato slices
1/2 cup (125 mL) mayonnaise (optional)
Directions
Preheat grill to medium heat; grease grate well.
Grill pancetta slices for 1 to 2 minutes per side or until grill-marked and lightly crisped.
Meanwhile, grill onions, turning and basting with balsamic vinegar, for 5 to 10 minutes or until grill-marked and tender.
Assemble pancetta in buns with mayonnaise (if using), grilled onions, arugula and tomato slices.
If serving for less people, divide accordingly.
Tips: To make into a breakfast sandwich top sandwiches with a fried egg.