Image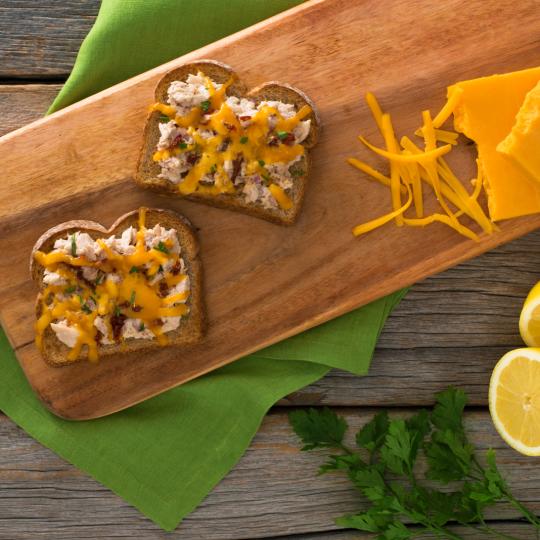 Open-Face Tuna Melt with Sun-dried Tomatoes
This updated version of the classic diner sandwich is sure to become a new favourite.
Ingredients
6 slices Villaggio® Italian Style Thick Slice 100% Whole Wheat Bread
2 cans light flaked tuna, drained (170 g each)
1/2 cup (125 mL) mayonnaise
3 tbsp (45 mL) finely chopped red onion
1 tsp (5 mL) finely grated lemon zest
1/4 tsp (1 mL) each salt and freshly ground pepper
1 cup (250 mL) shredded Cheddar cheese
1/4 cup (60 mL) finely chopped sun-dried tomatoes
2 tbsp (30 mL) finely chopped fresh parsley
Directions
Preheat broiler; position rack in centre of oven.
Stir together tuna, mayonnaise, onion, lemon zest, salt and pepper.
In separate bowl, toss together cheese, sun-dried tomatoes and parsley; set aside.
Arrange bread on baking sheet; broil for 2 minutes per side or until lightly golden. Divide tuna mixture evenly among bread; top with cheese mixture.
Broil for 1 or 2 minutes or until cheese is melted; cut each diagonally into 4 pieces. Serve immediately.