Image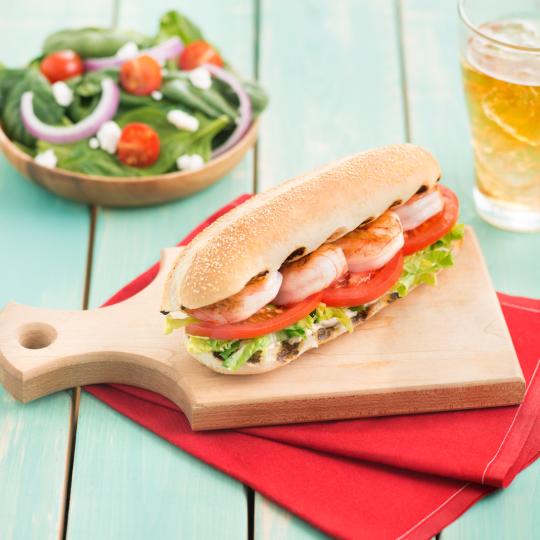 Grilled Shrimp Po' Boy with Italian Vinaigrette
This tasty, Simple Grilled Shrimp Po' Boy with Italian Vinaigrette is quick and easy to prepare. Shrimp are marinated, lightly grilled and assembled on a Villaggio® Crustini Sausage Buns with fresh toppings for a simply delicious dish. Serves eight.
Ingredients
8 Villaggio® Crustini Sausage Buns
1 1/2 lb (680 g) peeled and deveined shrimp, thawed and patted dry
1/4 cup (60 mL) Italian-style vinaigrette
1 1/2 cups (375 mL) shredded romaine lettuce
12 tomato slices
1/2 cup (125 mL) spicy mayonnaise
Directions
Preheat grill to medium-high heat; grease grate well.
Toss shrimp with vinaigrette.
Grill shrimp for 1 to 2 minutes per side or until pink and just cooked through.
Assemble shrimp in buns with lettuce, tomato slices and mayonnaise.
If serving for less people, divide accordingly.
Tips: For a quick spicy mayonnaise, mix mayonnaise with your favourite hot sauce to taste.