Image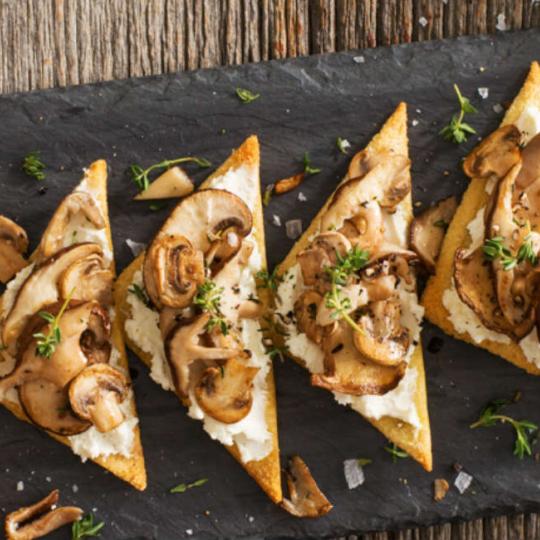 Savoury Sautéed Mushroom and Cheese Crostini
Savoury Sautéed Mushroom and Cheese Crostini is an elegant hors d'oeuvre that's easy to prepare. Toasted Villaggio® Classico Italian Style Thick Slice White Bread is topped with flavourful ingredients for a crisp and aromatic appetizer that's sure to become an instant favourite. Serves eight.
Ingredients
8 slices Villaggio® Classico Italian Style Thick Slice White Bread
2 tbsp (30 mL) olive oil
2 cloves garlic, minced
4 cups sliced mixed mushrooms (about 12 oz/375 g)
1 tbsp (15 mL) chopped fresh thyme
1 tsp (5 mL) lemon zest
1/4 tsp (1 mL) each salt and pepper
3 tbsp (45 mL) goat cheese
2 tbsp (30 mL) cream cheese
1/2 tsp (2 mL) Dijon mustard
1/4 cup (60 mL) shaved Parmesan cheese
Directions
Preheat oven to 375°F (190°C).
Cut crusts from bread; using rolling pin, roll out bread to flatten slightly.
Cut into triangles.
Place on baking sheet; bake for 12 to 15 minutes or until toasted and golden.
Heat oil in large skillet set over medium-high heat; cook garlic and mushrooms, stirring occasionally, for about 8 minutes or until browned and moisture has evaporated.
Stir in thyme, lemon zest, salt and pepper.
Meanwhile, mix together goat cheese, cream cheese and dijon mustard; spread over toast points.
Top evenly with mushroom mixture; sprinkle with shaved parmesan cheese.