Image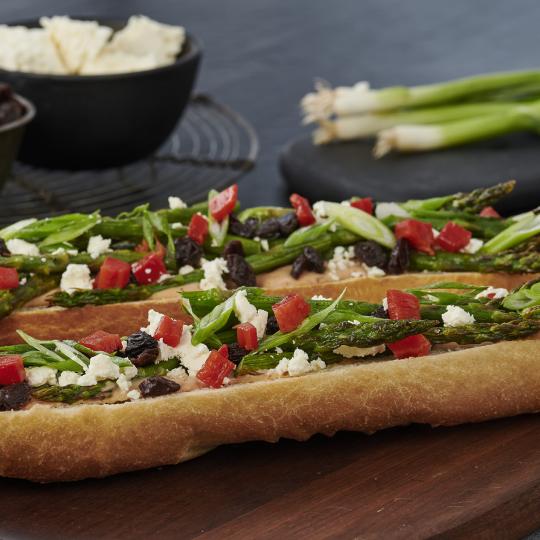 Savoury Asparagus and Feta Baguette with Raisins and Scallions
This savoury recipe has hints of sweetness and is a treat for those looking for a mouthwatering meatless alternative. Our Grilled Asparagus and Feta Baguette is topped with scallions, raisins, and a smoky French dressing on an Villaggio® Artesano™ Classic White Baguette. Bursting with flavour yet still well balanced, this meal is a delicious lunch or dinner option. Serves four.
Ingredients
1 Villaggio® Artesano™ Classic White Baguette
1 Kg asparagus
Olive oil for drizzling
1/2 cup plump raisins
6 scallions
1/4 - 1/2 cup (60 mL -125 mL) crumbled feta
1/2 cup (125 mL) roasted red pepper diced
1/2 cup (125 mL) ketchup
1/2 cup (125 mL) mayonnaise
1/4 cup (60 mL) dijon
1/4 cup (60 mL) red wine vinegar
2 cloves garlic
2 chipotle in adobo
salt and pepper
Directions
Prepare baguettes according to package instructions.
Blend together, ketchup, mayonnaise, dijon, red wine vinegar, garlic, chipotle, salt and pepper, in blender.
Set aside.
Blanch the asparagus in boiling salted water for 30 seconds.
Transfer to a bowl of ice water.
Place on a lined baking sheet and drizzle with olive oil.
Season and grill over moderate heat until tender and charred.
Cut baguettes in half and brush with dressing.
Grill facedown until toasty.
Arrange asparagus on top, with raisins, scallions, crumbled feta and roasted red pepper.