Image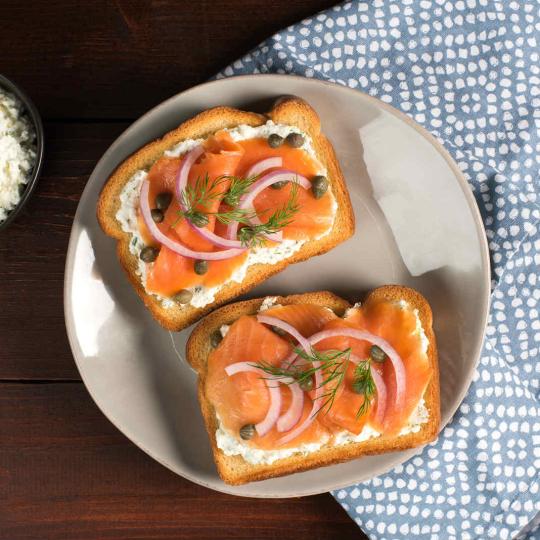 Quick and Zesty Lemon Ricotta Toast with Smoked Salmon
Easy and elegant, this Quick and Zesty Lemon Ricotta Toast with Smoked Salmon makes a savoury appetizer, starter or afternoon snack. Serve it on Villaggio® Artesano™ Original White Bread for a delicious dish that's ready in no time. Serves two.
Ingredients
2 slices Villaggio® Artesano™ Original White Bread, toasted
1/4 cup (60 mL) ricotta cheese
2 tsp (10 mL) lemon juice
1/4 tsp (1 mL) lemon zest
1 tsp (5 mL) finely chopped fresh dill
Pinch each salt and pepper
4 slices smoked salmon
1 tbsp (15 mL) thinly sliced red onion
Directions
Stir together ricotta, lemon juice, lemon zest, dill, salt and pepper; spread evenly over each slice of toast.
Top with salmon and red onion.
Tip: For a gourmet touch, garnish with capers, a small sprig of fresh dill and a sprinkle of cracked black pepper.