Image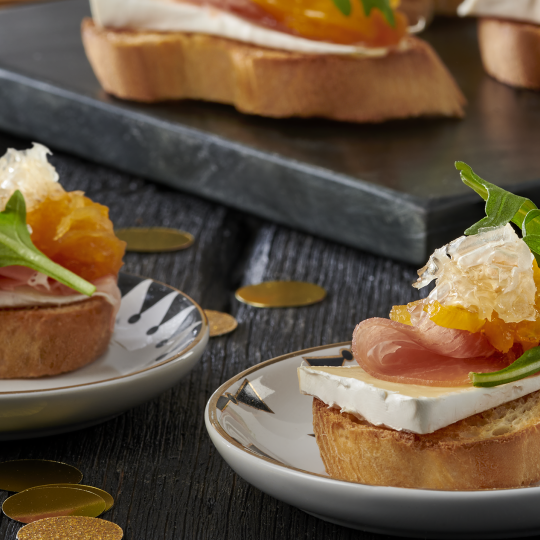 Prosciutto and Brie Crostini
With poached apricots, brie and prosciutto, enjoy the flavours of a charcuterie board in every bite of these crostini.
Ingredients
Villaggio® Artesano™ Classic White Baguettes
500 g triple crème french brie
100 g prosciutto
1 clove fresh garlic, peeled
1 cup (130 g) dried apricots, thinly sliced
2 tbsp (30 mL) water
3 tbsp (45 mL) brandy
1 cup (20 g) arugula
1/2 cup (160 g) honeycomb
Directions
Cook Villaggio® Artesano™ Classic White Baguettes according to package directions.
Allow to cool before slicing into desired slices.
Toast each slice and rub one side with garlic.
Place the apricots in a small pot along with 2 tbsp of water and 3 tbsp of brandy, over low heat and stir gently until all of the liquid has evaporated. Allow to cool.
On each toasted slice, add a slice of brie, layer with prosciutto, a few leaves of arugula, 1/4 tsp of poached apricots and a small piece of honeycomb.