Image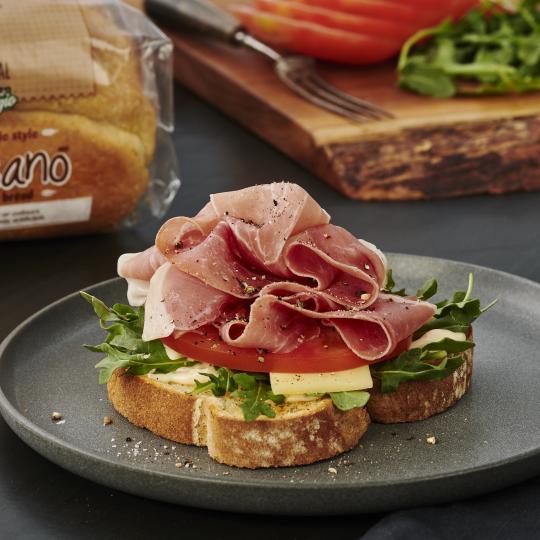 Open Faced Prosciutto Sandwich
A traditional artisan ham, prosciutto is a delicately savoury, buttery, slightly sweet, cured meat with a rosy hue and superior marbling. This well-loved charcuterie is sliced and served with all of the ingredients to assemble personal servings of open-faced prosciutto sandwiches with our Villaggio® Artesano™ Original White Bread.
Ingredients
8 Slices of Villaggio® Artesano™ Original White Bread
1 1/2 cups (360 mL) of garlic aioli
8 slices swiss cheese
1 cup of Arugula
2 tomatoes (sliced)
1 Pkt ( 5 oz) thinly sliced prosciutto
Salt and pepper
Garlic aioli
2 cloves of garlic
Pinch of salt
2 large egg yolks (room temperature)
1/2 tsp salt
1 tbsp (15 mL) fresh lemon juice
1 tbsp (15 mL) water
1/4 cup (60 mL) olive oil
1 1/2 cups (375 mL) of olive oil
Garnishes: Red Seedless Grapes, Olives, Cornichons, Pickled Onions
Directions
Lightly toast bread and allow to cool.
Spread with aioli.
Layer each with 2 slices of cheese, arugula, 2 slices of tomato and top with prosciutto.
Make aioli in a mortar and pestle or whisked in a bowl.
Mash garlic with knife's flat side or mortar and pestle, until it is a paste.
In a bowl, whisk egg yolks together with salt.
Slowly add in 1/4 cup of olive oil, drop by drop, whisking until emulsified.
Gently whisk in 1 1/2 cups of olive oil, in a steady trickle.
Stir in mashed garlic.