Image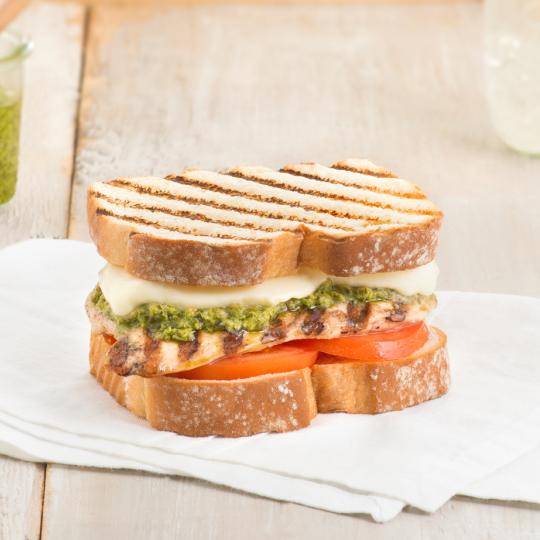 Grilled Chicken Caprese Sandwich with Basil Pesto
Featuring Italian-inspired ingredients, this Simple Grilled Chicken Caprese Sandwich with Basil Pesto is a delicious take on a classic salad. Villaggio® Classico Italian Style Thick Slice White Bread is filled with the fresh and flavourful toppings and grilled to perfection for a quick and satisfying lunch or dinner. Serves four.
Ingredients
8 slices Villaggio® Classico Italian Style Thick Slice White Bread
4 thin sliced boneless and skinless chicken breasts
2 tbsp (30 mL) olive oil, divided
1/4 tsp (1 mL) each salt and pepper
8 oz (225 g) fresh mozzarella (fior di latte), sliced
1/4 cup (60 mL) basil pesto
8 tomato slices
Directions
Preheat grill to medium-high heat; grease grate well.
Toss chicken with half the olive oil and season with salt and pepper.
Grill for 4 to 5 minutes per side or until grill-marked and just cooked through.
Sandwich tomato slices, chicken, pesto and cheese slices between 2 slices of bread.
Repeat to make 4 sandwiches.
Brush outside of bread with remaining olive oil.
Grill sandwich for 1 to 2 minutes per side over medium heat or until cheese starts to melt and bread is grill-marked.
If serving for less people, divide accordingly.
Tips: If you can't find fresh mozzarella (also called fior de latte) use regular slices of mozzarella.