Image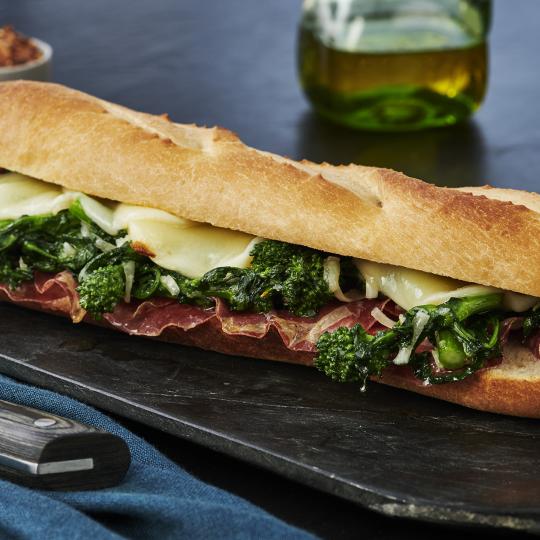 Easy Coppa Baguette with Prosciutto and Provolone Cheese
This easy and hearty Coppa Baguette with Prosciutto and Provolone Cheese is sure to provide a flavourful experience. This savoury recipe is made with a delicious combination of broccoli rabe pesto, honey, and coppa on an Artesano™ Classic White Baguette. Ready in less than 30 minutes, this recipe is perfect on a busy day for that satisfying meal you've been craving for lunch or dinner. Serves four.
Ingredients
1 Villaggio® Artesano™ Classic White Baguette
500g broccoli rabe
Salt
6 garlic cloves - minced
1/4 cup (60 mL) olive oil
1 tsp crushed red pepper
1 cup grated pecorino
3 tbsp honey
300g sweet coppa
300g prosciutto
300g thinly sliced provolone
Olive oil
Directions
Prepare baguettes according to package instructions.
Blanch the broccoli rabe in boiling salted water for 30 seconds.
Transfer to a bowl of ice water.
Drain and squeeze out water.
Chop into 2" Pieces.
Combine the broccoli rabe with minced garlic, olive oil, red pepper flakes in a pot until rabe is soft.
Cool and stir in honey and percorino.
Slice baguettes and build with provolone, coppa, prosciutto and broccoli rabe pesto.
Cook until cheese melts – skillet or panini press.