Image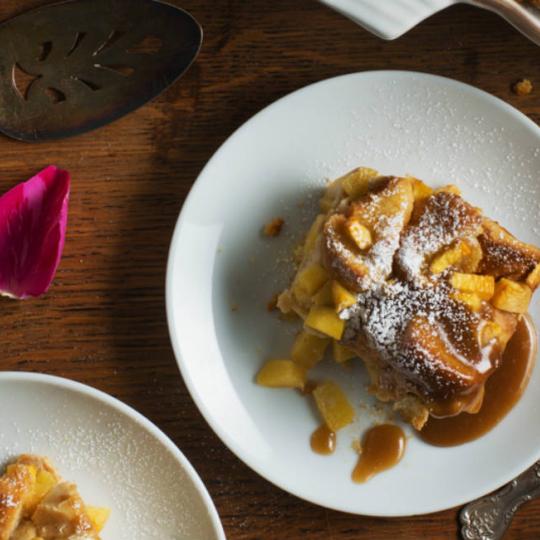 Decadent Peach Bread Pudding with Bourbon Sauce
Decadent Peach Bread Pudding with Bourbon Sauce elevates brunch to a sweet new level. Cubed Villaggio® Artesano™ Original White Bread is combined with fresh peaches and aromatic spices for a rich dessert sure to impress at holidays and special occasions.
Ingredients
8 cups lightly packed cubed Villaggio® Artesano™ Original White Bread (cut into 1" cubes)
4 eggs, lightly beaten
5 cups (1.25 L) whole milk
1 tbsp (15 mL) vanilla
1/4 tsp sea salt
1/2 cup (125 mL) maple syrup
1 tsp cinnamon
1/2 tsp nutmeg
3/4 cup (175 mL) brown sugar
4 cups diced fresh peaches (peeled)
1 egg, lightly beaten
1/3 cup (75 mL) melted butter
3/4 cup (175 mL) brown sugar
1 tsp (5 mL) vanilla
3 tbsp (45 mL) bourbon whiskey
Directions
Preheat the oven to 350F and grease a 9x13" baking pan.
Place the cubed bread in a large bowl.
In another large bowl, whisk together the eggs, milk, vanilla, salt, maple syrup, cinnamon, nutmeg and brown sugar.
Pour this mixture on top of the cubed bread and gently stir to coat.
Fold in the peaches, pour into the prepared pan and let it sit for 5-10 minutes before placing into the oven.
Bake for one hour, remove from the oven, and let it sit to cool at room temperature.
While the pudding is baking, place the beaten egg in a medium heavy-bottomed saucepan (off of the heat) and slowly add the melted butter, whisking while adding.
Whisk in the brown sugar, vanilla and bourbon and stir over low heat until the sugar is dissolved and the sauce starts to slightly thicken.
Pour the sauce over the bread pudding and serve with a dollop of whipped cream.