Image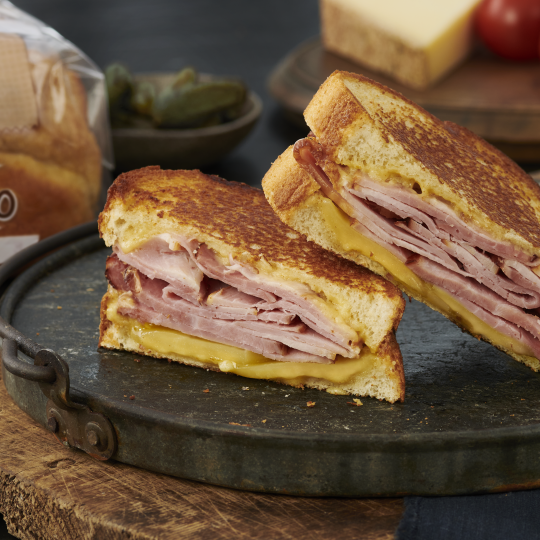 Classic Croque Monsieur Grilled Cheese Sandwich
Meaning "Mister Crunch" – the elegant end of the grilled cheese sandwich spectrum. First served in 1910 at a Paris Café, this Ham Sandwich is a classic. Try this elevated lunch idea on our Villaggio® Artesano™ Brioche Style White Bread.
Ingredients
8 Slices Villaggio® Artesano™ Brioche Style White Bread
1/2 lb swiss cheese shredded
1 large egg yolk (room temperature)
1 tbsp (15 mL) worcestershire sauce
1/2 tsp (2 mL) dry hot mustard
1/4 tsp (1 mL) cayenne pepper
Salt, to taste
2 tbsp (30 mL) heavy cream
1/2 lb smoked boiled ham
4 slices of swiss cheese
4 tbsp of butter
Olive oil, for frying
Directions
In a food processor, combine the cheese, egg yolk, Worcestershire sauce, mustard, cayenne pepper, salt.
Blend until smooth. If too thick, loosen with cream.
Combine sugar and cinnamon. Set aside.
Spread mixture evenly over Villaggio® Artesano™ Brioche Style White Bread.
Top 4 slices of bread with a layer of ham and cheese; cover with remaining 4 bread slices. Pressing firmly to adhere.
Generously butter outer sides, spreading it all the way out to the
edges.
Heat olive oil in skillet, over medium heat.
Cook until golden brown and cheese has melted, 3 to 4 minutes per side.
Transfer to work surface and cut in half for serving.