Image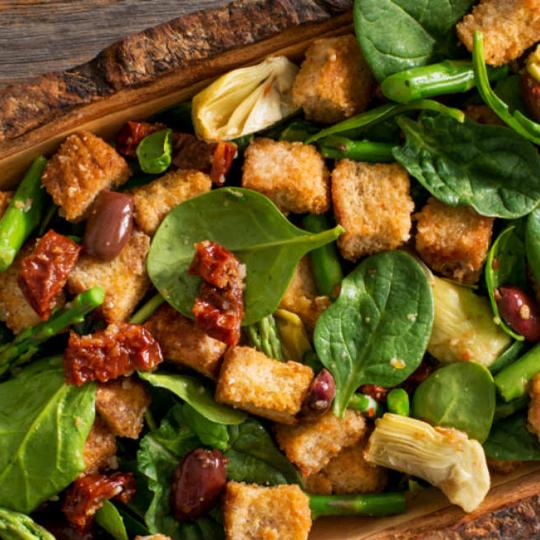 This traditional Italian bread salad makes a satisfying springtime lunch.
Ingredients
6 slices Villaggio® Italian Style Thick Slice 100% Whole Wheat Bread
1/2 cup (125 mL) grated Parmesan cheese
2 tbsp (30 mL) olive oil
4 cups (1 L) baby spinach
1 lb (500 g) asparagus, cooked and chopped
1/2 cup (125 mL) chopped drained marinated artichokes
1/2 cup (125 mL) halved pitted olives
1/2 cup (125 mL) chopped drained sun-dried tomatoes
1/2 cup (125 mL) Italian vinaigrette
Directions
Preheat oven to 375°F (190°C)
Cut bread into 1-inch (2.5 cm) cubes; toss with Parmesan and olive oil.
Spread in single layer on parchment paper-lined baking sheet; bake, stirring once or twice, for 10 to 15 minutes or until golden and crisp.
In bowl, toss together bread cubes, spinach, asparagus, artichokes, olives and sun-dried tomatoes; pour in dressing and toss to coat.