Image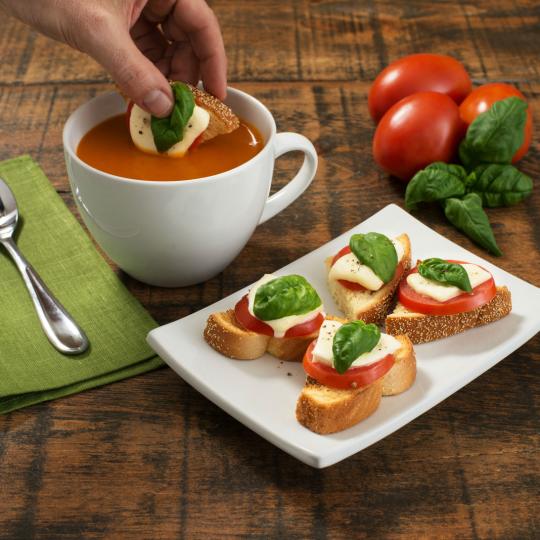 Spicy Tomato Soup with Caprese-Style Croutons
This Spicy Tomato Soup with Caprese-Style Croutons is a creamy soup with a bold chili kick. Served with Villaggio® Classico Italian Style Thick Slice White Bread croutons topped with classic Caprese ingredients, it's a simply satisfying choice for lunch or dinner. Serves four.
Ingredients
2 slices Villaggio® Classico Italian Style Thick Slice White Bread
1 tbsp (15 mL) olive oil
1 small onion, finely chopped
2 cloves garlic, minced
1 can (796 mL) crushed tomatoes
4 cups (1 L) chicken broth
1/2 tsp (2 mL) chili flakes
1/2 tsp (2 mL) each salt and pepper
1/2 cup (125 mL) 35% whipping cream
8 slices plum tomato
2 slices fresh mozzarella cheese, quartered
8 fresh basil leaves
Directions
Heat oil in large saucepan set over medium heat; cook onion and garlic for 3 to 4 minutes or until slightly softened.
Add crushed tomatoes, chicken broth, chili flakes, salt and pepper; bring to boil.
Reduce heat to medium-low and simmer for 10 minutes.
Using blender, purée soup until smooth. Return to saucepan; stir in cream until heated through.
Meanwhile, preheat oven to 375°F (190°C).
Cut each slice of bread into 4 triangles.
Place on baking sheet; bake for 7 to 8 minutes or until lightly toasted.
Preheat broiler.
Top each toast triangle with slice of tomato and mozzarella.
Broil for 1 to 2 minutes or until cheese is melted.
Top each toast with basil leaf.
Ladle soup into bowls and top with two toast triangles.
Tip: Add extra chili flakes for more heat or omit chili flakes for a less-spicy soup.