Image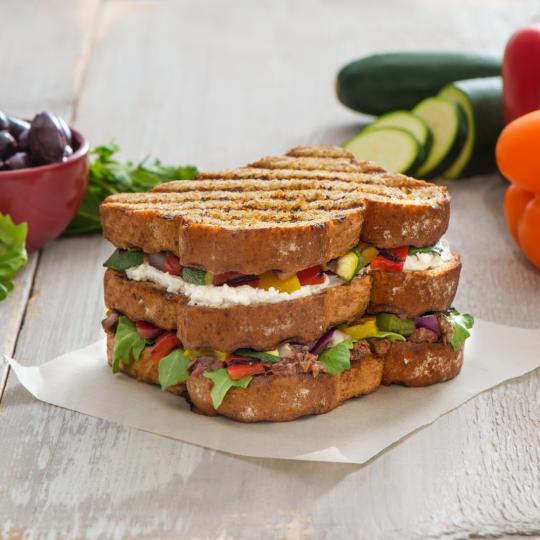 Grilled Veggie Triple Decker Sandwich
Sweet grilled vegetables are paired with savoury olive tapenade and creamy goat cheese for a vegetarian-friendly sandwich.
Ingredients
12 slices Villaggio® Italian Style Thick Slice 100% Whole Wheat Bread
4 tsp (20 mL) olive oil
4 cups (1 L) chopped mixed grilled vegetables
1/4 cup (60 mL) olive tapenade
1/2 cup (125 mL) soft goat cheese
1 cup (250 mL) arugula
Directions
Preheat grill to medium-high heat; grease grate well.
Brush bread slices with olive oil and grill for 30 to 60 seconds per side or until grill-marked and toasted.
Spread olive tapenade on 4 of the grilled bread slices.
Top evenly with arugula and half the veggies.
Spread goat cheese spread evenly on 4 of the grilled bread slices.
Top evenly with remaining veggies. Stack these on top of the olive tapenade bread slices.
Cap with remaining bread slices.
Secure with toothpicks and slice in half.
Tips: For the grilled vegetables, toss slices of eggplant, zucchini, onion and quartered mixed bell peppers with Italian vinaigrette and grill for 5 to 10 minutes or until grill-marked and tender.