Image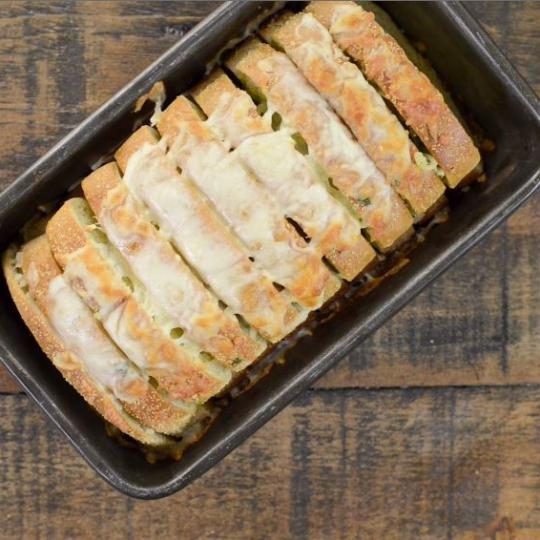 Easy Cheesy Pull-Apart Garlic Bread
Bursting with cheese and garlic butter, this Easy Cheesy Pull-Apart Garlic Bread is a mouth-watering, melty sensation prepared on soft Villaggio® Artesano™ Original White Bread. Serve it as a delicious side dish for sharing at dinner or as a savoury appetizer at your next get-together. Serves 10.
Ingredients
12 slices Villaggio® Artesano™ Original White Bread
1/2 cup (125 mL) melted butter
4 cloves garlic, minced
2 tbsp (30 mL) chopped fresh parsley
1 1/2 cups (375 mL) shredded pizza cheese blend
Directions
Preheat oven to 375°F (190°C).
Grease 9- x 5-inch (2 L) loaf pan; set aside.
Stir together melted butter, garlic and parsley; reserve 2 tbsp (30 mL) and set aside.
Reserve 1/2 cup (125 mL) cheese and set aside.
Brush butter mixture evenly over one side of each slice of bread.
Sprinkle with remaining cheese.
Stack bread slices on top of each other; transfer carefully to prepared pan.
Brush top with reserved melted butter and sprinkle with reserved cheese.
Bake for about 15 minutes or until cheese is melted and crispy around the edges.
Let cool in pan for 10 minutes; serve warm.
Tips: Try adding crumbled chorizo sausage and Tex-Mex cheese for a trendy twist.