Image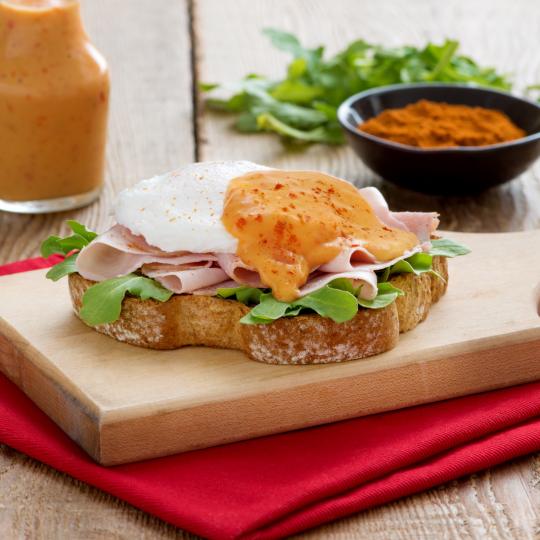 Easy Eggs Benedict with Ham and Roasted Red Pepper Hollandaise
This flavourful Easy Eggs Benedict with Ham and Roasted Red Pepper Hollandaise is an elevated take on a classic. Served on toasted Villaggio® Italian Style Thick Slice 100% Whole Wheat Bread and topped with tangy red pepper Hollandaise, it's a savoury choice for breakfast or brunch. Serves four.
Ingredients
6 slices Villaggio® Italian Style Thick Slice 100% Whole Wheat Bread, toasted and buttered
1 1/2 cups (375 mL) fresh arugula
12 thin slices Black Forest ham
6 poached eggs
Pinch paprika
3/4 cup (175 mL) salted butter
4 egg yolks
2 tbsp (30 mL) lemon juice
1 tsp (5 mL) Dijon mustard
2 tbsp (30 mL) roasted red pepper pesto (*see Tip)
1/2 tsp (2 mL) paprika
1/4 tsp (1 mL) each salt and freshly ground pepper
Directions
In small saucepan, heat butter over medium-high heat until melted and bubbling.
Combine egg yolks, lemon juice and mustard in blender; purée until smooth.
With motor running, pour the bubbling butter into the blender.
Stir in red pepper pesto; season with paprika, salt and pepper.
Serve immediately.
Divide arugula and ham evenly among slices of bread; top each with poached egg.
Spoon Red Pepper Hollandaise over top; sprinkle with paprika.
To poach eggs, fill saucepan with enough water to come 3 inches (15 cm) up side. Heat until water simmers gently; stir in 1 tsp (5 mL) vinegar.
Break each egg into small dish; holding dish just above simmering water, slip each egg into water. Cook, in barely simmering water, for 3 to 5 minutes or until the white is set and yolk is cooked to desired doneness.
Remove eggs with slotted spoon; drain well on paper towel.
Tips: For a quick roasted red pepper pesto, purée roasted red peppers, 2 tbsp (30 mL) freshly grated Parmesan cheese, 4 tsp (20 mL) olive oil, 1 clove garlic, 1/4 tsp (1 mL) dried oregano and pinch each salt and pepper in food processor until smooth.