Image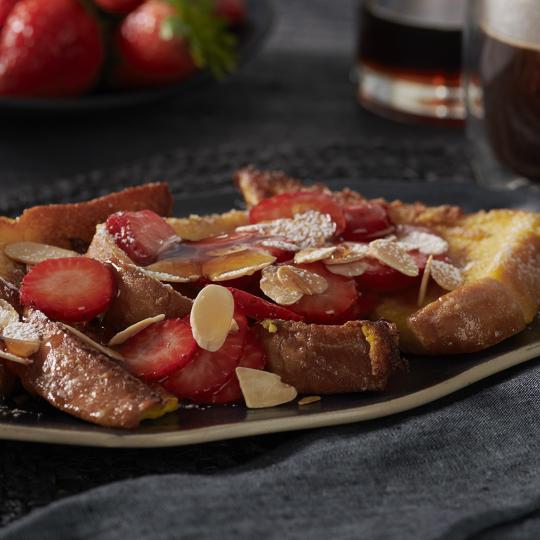 Ingredients
4 Slices of Villaggio Artesano® Original White Bread
1 Cup (250g) Strawberries - Sliced
2 Tbsp (30g) Sugar
1 Tbsp (15mL) Orange Liqueur
3 Eggs
1/2 Cup (125mL) Half-and-Half
2 Tbsp (30mL) Honey
1 Tsp (5mL) Vanilla Extract
1 Tbsp (30g) Orange Zest – One Strip
1/4 Cup (60g) Butter
2 Tbsp (30g) Icing Sugar
1/4 Cup (60g) Sliced Almonds
1/4 – 1/2 Cup (60-125mL) Maple Syrup, for serving
Directions
In a small bowl, toss the Sliced Strawberries together with the Sugar and Orange Liqueur.
In a shallow-rimmed dish (large enough to hold the 4 slices of bread) whisk together the eggs with half-and-half, honey, vanilla extract, and orange zest.
Add in the 4 slices of bread
Turn to coat the bread slices with egg mixture, then, allow to soak for 10 mins.
Heat up a pan over medium heat, melt in butter and swirl the pan to coat the surface evenly with melted butter.
Pan fry in butter for about 5 mins, until golden brown on each side.
Sprinkle with Icing Sugar.
Serve with sliced almonds, strawberries, and drizzle with maple syrup.