Image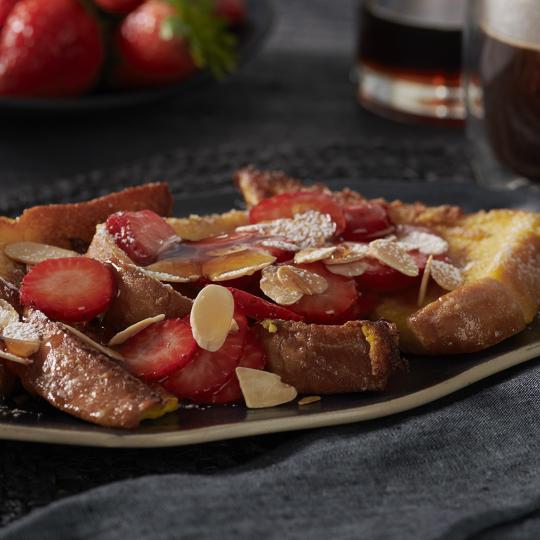 Ingredients
4 Slices of Villaggio Artesano® Original White Bread
1 Cup (250g) Strawberries - Sliced
2 Tbsp (30g) Sugar
1 Tbsp (15mL) Orange Liqueur
3 Eggs
1/2 Cup (125mL) Half-and-Half
2 Tbsp (30mL) Honey
1 Tsp (5mL) Vanilla Extract
1 Tbsp (30g) Orange Zest – One Strip
1/4 Cup (60g) Butter
2 Tbsp (30g) Icing Sugar
1/4 Cup (60g) Sliced Almonds
1/4 – 1/2 Cup (60-125mL) Maple Syrup, for serving
Directions
In a small bowl, toss the Sliced Strawberries together with the Sugar and Orange Liqueur.
In a shallow-rimmed dish (large enough to hold the 4 slices of bread) whisk together the eggs with half-and-half, honey, vanilla extract, and orange zest.
Add in the 4 slices of bread
Turn to coat the bread slices with egg mixture, then, allow to soak for 10 mins.
Heat up pan over medium heat, melt in butter and swirl pan to coat surface evenly with melted butter.
Pan fry in butter for about 5 mins, until golden brown on each side.
Sprinkle with Icing Sugar.
Serve with sliced almonds, strawberries, and drizzle with maple syrup.