Image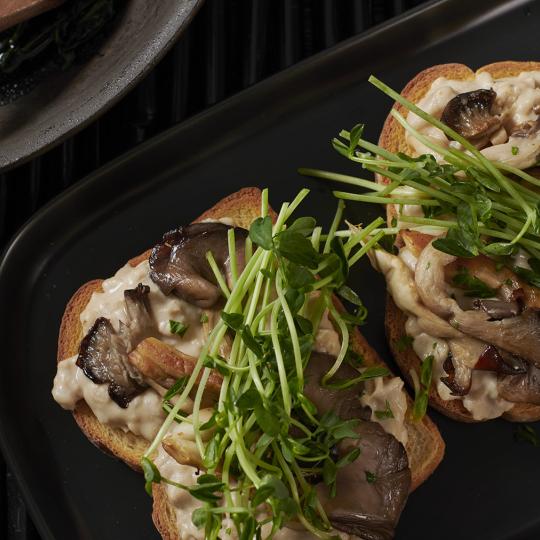 Ingredients
2 Slices of Villaggio Artesano® Original White Bread
2 Cups (500g) Oysters Mushrooms
2 Tbsp (30g) Butter
1 Clove Garlic – Pressed or Minced
1/2 Cup (125mL) White Wine
1 Tsp (5g) Thyme
1 Tsp (5g) Rosemary
1 Tbsp (15g) Parsley
1 Cup (250g) Pea Shoots

White Bean Dip

1 Cup (250g) White Beans
1/4 Cup (60mL) Olive Oil
1 Clove Garlic – Pressed or Minced
2 Tbsp (30g) Tahini
Salt and Pepper, to taste
Directions
Prepare white bean dip by processing all ingredients together until smooth. Season with Salt and Pepper, (to taste) and set aside.
Clean and cut (or tear) the oyster mushrooms into evenly sized pieces.
Melt the butter in a skillet, over medium-high heat.
Spread the mushrooms out in a single layer and sauté them, undisturbed, for about 3-5 mins. until they start to brown.
Turn the heat down to medium.
Add in garlic and continue to cook for another 5-10 mins until browned all over.
Pour in white wine, reduce the heat to low, and allow this to cook for another 10 minutes or so, undisturbed.
Stir in the chopped herbs and continue to cook for an additional minute or so.
Toast 2 slices of bread.
Spread evenly with the white bean dip, layer generously with oyster mushrooms, and top with the pea shoots.