Image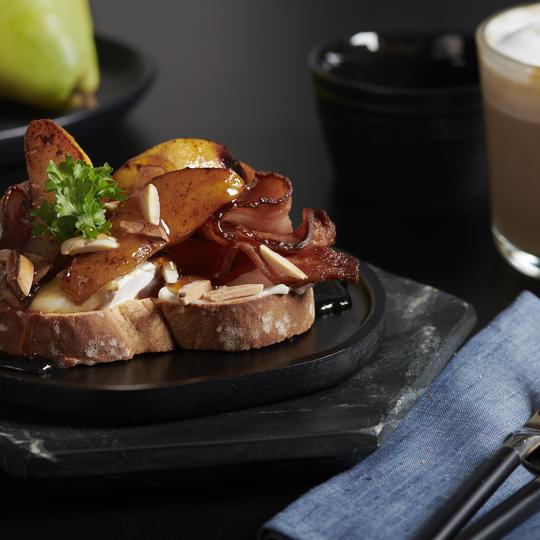 A delightful flavour packed open-faced version of the standard grill cheese
Ingredients
4 Slices of Villaggio Artesano® Original White Bread
2 Pears
2 Tbsp (30g) Butter
2 Tbsp (30g) Sugar
1 Tsp (5g) Cinnamon
1/2 Tsp (2.5g) Cardamom
1/4 Cup (60g) Mayonnaise
12 Slices Thick-Cut Maple Bacon – Cooked
8 Slices of Brie
1/2 Cup (125g) Slivered Almonds
1/2 Cup (125mL) Maple Syrup
Directions
Cut both pears into quarters, remove the core, and slice each quarter section in half again.
In a skillet, over medium-high heat, melt butter, then add in sugar, cardamon, and cinnamon until incorporated.
Add in the pear slices and sauté for about 2-3 mins. per side until golden brown and caramelized.
Toast 4 slices of bread then spread each slice with mayonnaise.
Layer each toasted slice with the brie, bacon, and top it with the pear slices evenly.
Sprinkle with the slivered almonds and drizzle with maple syrup.